About the speaker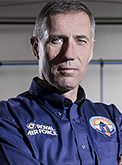 Wing Commander Andy Green,OBE
Fighter Pilot, Royal Air Force, United Kingdom
Driver of BLOODHOUND SSC & World Land Speed Record Holder
Wing Commander Andy Green, is a serving Royal Air Force Fighter Pilot.
Driving Richard Noble's Thrust SSC (SuperSonic Car) in 1997, Andy and the team set the world's first and only supersonic Land Speed Record at an astonishing 763 mph, driving literally 'faster than a speeding bullet'.
After setting the Outright World Land Speed Record in 1997, Andy went on to drive the JCB DIESELMAX car in 2006, setting a Record of 350 mph for the world's fastest diesel car, powered by JCB digger engines.
Andy is now involved in perhaps the ultimate Land Speed Record challenge. He is the driver for the new Bloodhound SSC, designed to reach an astonishing 1000 mph. Using his previous Record-breaking experience, and drawing on his first-class Mathematics degree from Oxford and his experience as a Fighter Pilot, Andy is also a member of the design team for this remarkable jet- and rocket-powered Car.
It is not just the breaking of the Land Speed Record that Andy is passionate about. Through the BLOODHOUNDSSC project, he wants to fire the imagination of school students to experience the magic of science and technology.
Andy Green was created an Officer of the Order of the British Empire (OBE) in 1997.